Springfield Castle is a stylish, elegant, and comfortable family home furnished with family antiques and portraits. You will feel welcome from the moment you arrive.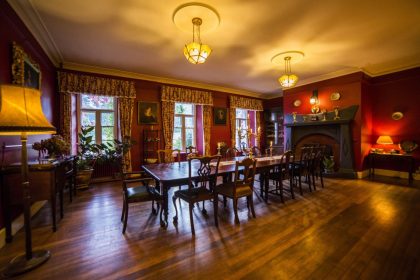 The castle sleep 15 people in 8 bedrooms, 7 of these bedrooms have king or queen beds (the green and grey rooms can be changed to two single beds )and there is one single room. All the rooms are furnished with family antiques and very comfortable beds. The beautiful drawing room off the main entrance is filled with antiques and works of art which make it a special place to sit and chat, and perhaps put another log on the open fire when it suits. The elegant large dining room with its rich red walls, and fine silver candelabra lighting up the large mahogany dining table, is a pleasure to dine in at night. The study is a cozy sitting room with leather sofas and an open fireplace. It has free wireless internet access. You will enjoy the large warm and welcoming kitchen with its "always-on" 4 oven AGA cooking range. It is a comfortable room where you can relax while enjoying meal preparation.
One of the delights of staying at Springfield Castle is the seclusion and tranquillity offered by the 200 acres of wooded estate. When you drive in through the gates and up the three-quarter mile long tree-lined avenue you will feel the magic of entering a "different world".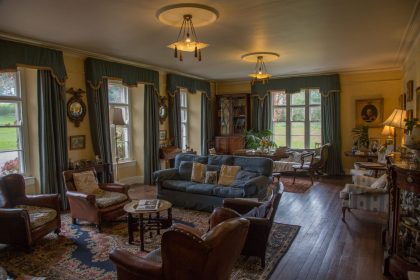 On the premises are leisure facilities including a sauna for relaxation, a full-sized snooker/billiard table, table tennis, and a hard court tennis court. When you choose Springfield for your exclusive Irish Castle stay you will enjoy its seclusion and tranquil grounds, and it is also ideally suited for day visits to the best attractions in South West Ireland.