If you're visiting Ireland over the Christmas period, you're in for a treat – there is nothing like the atmosphere of Christmas in Ireland! The weather is crisp, the fires are roaring, the food is just superb and, of course, festive cheer abounds wherever you go.
If you are spending Christmas and New Year's in Ireland, these are some of the places we recommend staying:
Hayfield Manor Hotel, Cork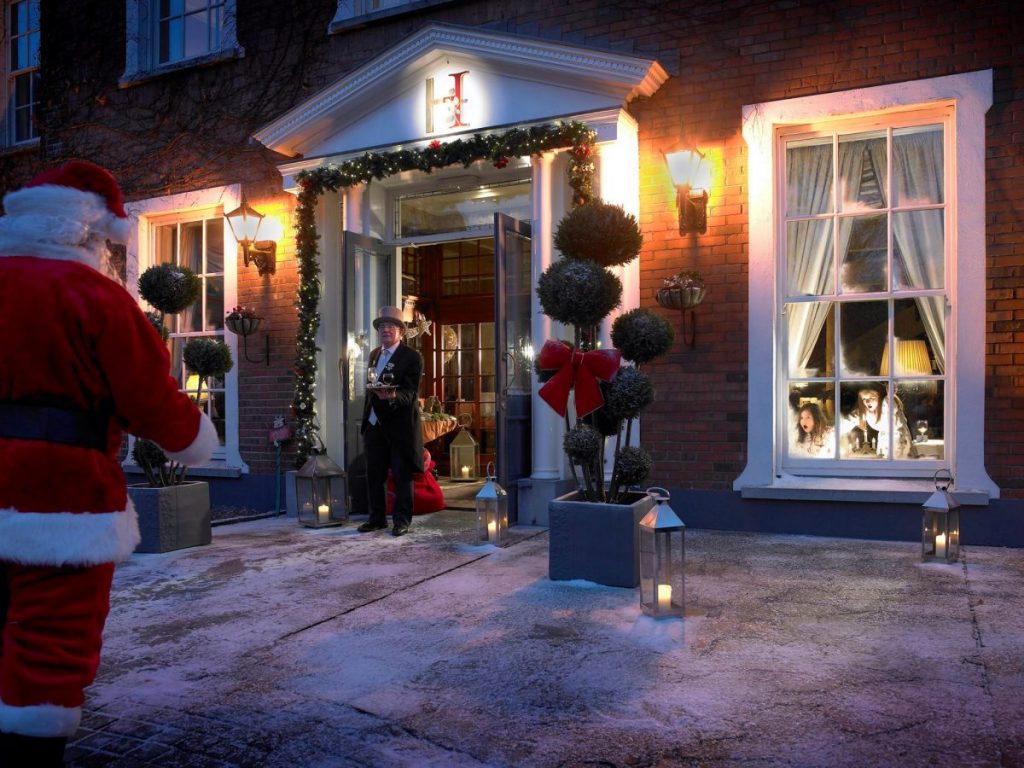 Hayfield Manor Hotel is a luxury 5-star hotel in Cork city centre in Ireland. A stay at this Cork boutique hotel, which is an experience in itself, is particularly special during the Christmas period, with an exceptionally festive backdrop and ambiance from the moment you come through the front door.
On Christmas Eve, enjoy a seasonally themed drinks reception, complete with indulgent festive fayre. Spend a leisurely afternoon discovering the delightful amenities of your Christmas retreat, which include Orchids Restaurant, Perrotts Garden Bistro & the sanctuary of The Beautique Spa. Perhaps take the opportunity to do a little last minute gift wrapping and soak up the cheerful atmosphere while sipping warmed mulled wine & being serenaded with heart warming Christmas carols. Continue your evening celebrations with a festive meal of the finest local fare. Following evening ceremonies, enjoy warming mulled wine & mince pies in front of an open fire before retiring to your bedroom for a peaceful night's sleep.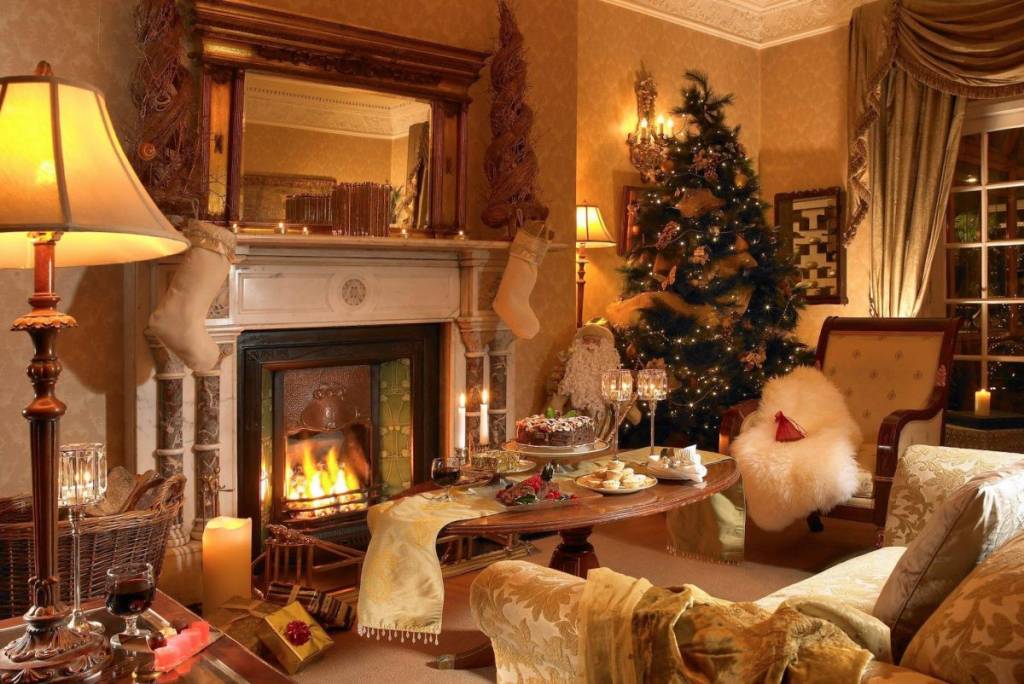 Christmas Day begins with Hayfield Manor's famous Irish breakfast. Spend the morning relaxing in the luxury of your room or in a cozy corner in one of the resident lounges. Christmas Day celebrations commence in earnest with a Champagne toast which precedes a Traditional Christmas Lunch – a gourmet spectacle featuring all your traditional festive favorites. The evening culminates with a light buffet supper. After that, relax by the fire with family and new-found friends to enjoy the enchanting tones of classical piano, or retire to the peace and luxury of your room for the final hours of Christmas Night.
St Stephen's Day, as we call it December 26th, begins with a leisurely breakfast. Then opt to visit The Beautique Spa for some rejuvenating therapies or perhaps take to the city's streets to enjoy the excitement of the commencement of the sales season.
In the evening, musical entertainment will add a lively note to the enjoyment of your St Stephen's Night dinner. As bedtime beckons, slip away for a peaceful last night's slumber at Hayfield Manor. Christmas time at Hayfield Manor is a truly magical experience!
Castlemartyr Resort, Cork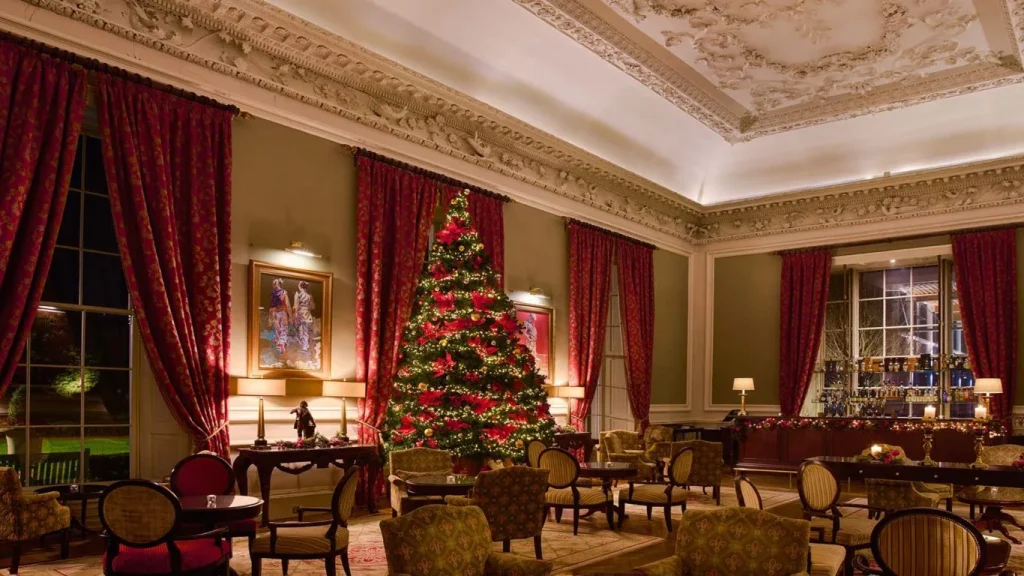 A festive retreat like no other, there are many reasons to choose Castlemartyr Resort this Christmas – the exceptional level of service, the unsurpassed attention to detail, the magnificent grandeur of the Manor House, the lavish array of delicious seasonal food, the indulgent element of escape and the pleasure of Christmas spent in beautiful Cork countryside.
Castlemartyr Resort has plenty for you to enjoy this Christmas. On arrival, warm up with a glass of mulled wine, then wrap up and take a stroll around the beautiful formal gardens, the castle grounds, and the surrounding woodlands that encompass the 220-acre estate.
Christmas Eve begins with a welcome cocktail reception in The Manor House with festive carols from our local choir. This is followed by a delectable 5-course meal. Post dinner, delight in the festive atmosphere beneath the magnificent Lafranchini ceiling of The Knights Bar.
For Junior Guests, a very special visitor is welcomed, who is sure to bring a burst of festive cheer to the young and the young at heart.
Awaken on Christmas morning for breakfast in the Canopy. Enjoy the magical settings of the many spacious guest lounges of Castlemartyr Resort on Christmas Day, find a cozy corner for opening gifts while listening to joyous melodies, or take to the outdoors to work up a hearty appetite.
Then it's time for the main event – your Christmas meal prepared by the Executive Chef and is a feast of festive and indulgent delicious delights.
Following your Christmas Day meal experience, retire to Canopy Bar, The Knights Bar, or to The Library to relax and unwind or perhaps get into the fun competitive spirit with our selection of board games or cozy up to watch a selection of classic Christmas movies-a delight for all ages.
Later that evening, a light buffet supper will be served for you to enjoy at your leisure; the perfect end to an enchanting Christmas day.
Enjoy breakfast on Stephen's morning to set you up for your day, refresh with a leisurely walk around the grounds or along one of the many local beaches. Finish off your day with a night out in the Hunted Hog traditional pub with live music.
The Merrion, Dublin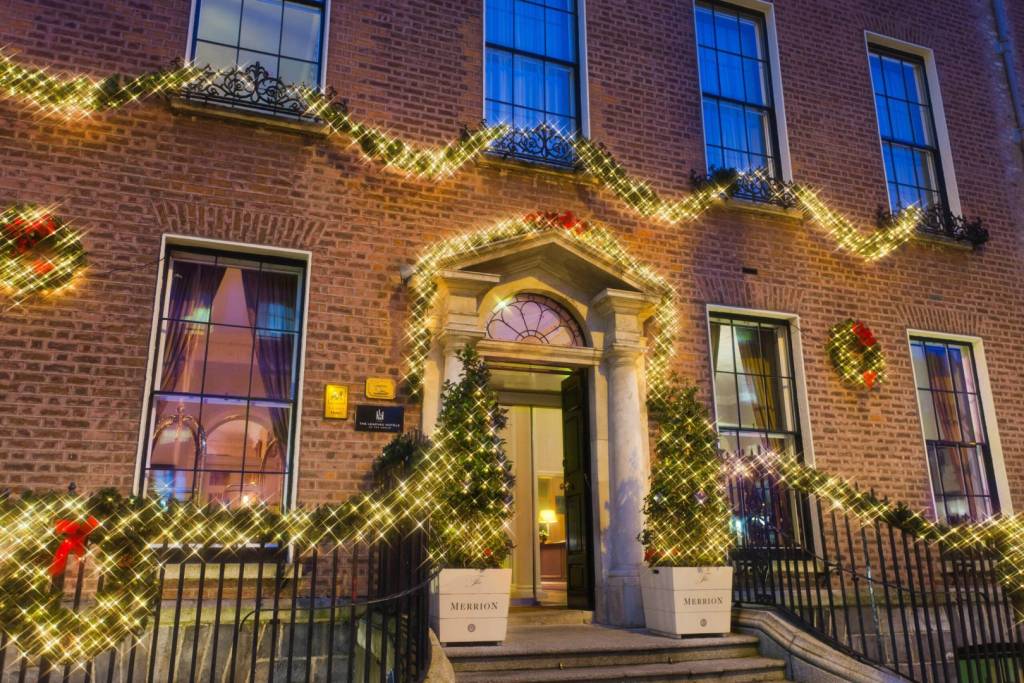 Crackling open fires, rich Georgian Drawing Rooms, deep sofas, and a glass of champagne with Father Christmas – Let the five-star Merrion Hotel warmly welcome you to a wonderful Christmas in Dublin.
The Merrion, located in the heart of Dublin city center, is the capital's most luxurious five-star hotel, and a proud member of The Leading Hotels of the World. Arrive on Christmas Eve and check into your luxurious room, complete with tempting seasonal delights. Anticipate Christmas by the crackling log
fire, enjoy a luxury spa treatment or relax in the warm ambiance of the cocktail bar, No. 23, before enjoying festive Christmas Carols that evening. A special visitor will meet the younger guests around the magical Christmas tree, where each child will receive a Christmas gift, and for the older residents enjoy a glass of mulled wine and mince pies. Wake up on Christmas Morning to a celebratory breakfast in the comfort of your own room or in the Garden Room, and later enjoy traditional Christmas Lunch or Dinner in the Garden Room. On St. Stephens Day, December 26th, experience the thrill of horse-racing at the Leopardstown Christmas Race Festival, complete with coach transfers to and from the hotel. For those
who would prefer to stay indoors, guests can opt for a relaxing spa treatment in the Merrion Spa.
The Merrion is a marriage of exquisite comfort, relaxed elegance, and advanced guest facilities.
Great Southern, Killarney
Enjoy a cozy and traditional Irish welcome of Afternoon Tea served in the elegant drawing rooms, a delicious way to commence your stay on Christmas Eve in Killarney. In the evening, gather for a celebratory drinks reception before an indulgent Christmas Eve meal which is served in the splendid setting of The Garden Room. Following a most cheerful and relaxing meal, an evening concert of heart-warming Christmas carols takes place in the historic Grand Foyer. The evening culminates with late-night bites followed by mince pies and warming mulled wine – just perfect for those guests who will be braving the elements to attend midnight celebrations to finish off your Christmas Eve in Kerry.
Begin Christmas Day in Killarney with a hearty start at Great Southern Killarney's Christmas Day Breakfast. Thereafter enjoy the excitement of gift giving in your private room or gather friends and family in a cozy corner of one of our beautiful antique resident lounges where light snacks will be served throughout the day. Gather friends and family for the Great Southern Christmas Lunch, complete with all the traditional festive fare. Join the in the anticipation and excitement of a visit from Father Christmas to the delight of our junior guest, who each receive a bespoke gift and revel in some festive fun with Santa Claus. Following the afternoon's festivities, enjoy the final hours of Christmas night with musical entertainment and when slumber calls, retire to your bedroom for a peaceful night's sleep.
Begin Stephens Day, December 26th, with a leisurely breakfast. Enjoy an early afternoon outing exploring the beauty and Christmas traditions of County Kerry. Return to indulge in the delightful tradition of Afternoon Tea and warming broth. Following an active day, a well-deserved and enticing St. Stephen's Day dinner is served. Thereafter enjoy live musical entertainment & prior to slumber, partake in late-night bites. A truly enchanting setting that captures the magic of Christmas with impeccable service throughout your stay.
Contact us now to arrange your vacation to Ireland at Christmas and New Year 2023. We offer a full service, from suggesting itineraries, booking hotels, restaurants, and experiences, to our renowned Driver Guides escorting you around Ireland on a trip of a lifetime in our luxurious vehicles .